My life is an ongoing story, full of unanticipated and sometimes radical changes of direction. If you're interested, here is the story to date...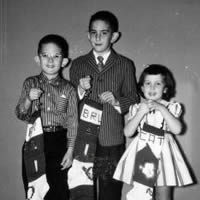 The Early Years: 1953-71
I was born on September 10, 1953, in Madison, Wisconsin, the second of three children born to Albert and Margaret Hesse. My brother Bruce was born in 1951; my sister Cathy, in 1955.
Due to my father's work with IBM, the family moved a number of times during my school years, beginning with Bloomington, Illinois, and proceeding to Colorado Springs, Colorado, Apalachin, New York, and San Jose, California. (They've now settled in Green Valley, Arizona.)
By my count, I attended twelve schools in twelve years, concluding with Leland High School in San Jose. I was involved in numerous activities there, including band, choir, drama, debate, and various service clubs. My involvement with student government culminated with my term as student body president in 1971. I graduated from Leland in 1971 as valedictorian.
It was during my junior year at Leland, after an invitation of friends to a weekly early-morning prayer meeting, that I became a follower of Jesus Christ. It was a decision that, more than any other to date, would shape the man I have become.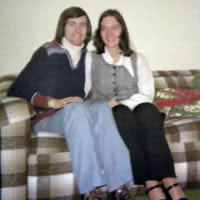 Higher Education & Marriage: 1971-79
Following graduation from high school, I attended Seattle Pacific University (then Seattle Pacific College) in the fall of 1971, intending to major in mathematics with an eye to a career in computers. However, I soon sensed God calling me in a different direction, and ended up graduating with a dual major in mathematics and Biblical literature, in preparation for seminary and pastoral training.
I met Margy Day on my first day of freshman orientation at Seattle Pacific, and she became one of my first friends on campus. Our friendship grew slowly but deliberately, and we were married on May 3, 1975.
Our first home was an apartment on Seattle's Queen Anne Hill, where we lived for our first year. Margy worked as a secretary for Associated Grocers, while I worked as an announcer for Radio Talking Book, a service of the Washington State Library for the Blind and Physically Handicapped.
We moved to the Chicago area in the summer of 1976 in order to begin my studies at Trinity Evangelical Divinity School. I graduated with a Master of Divinity in 1979, and was called to my first pastorate shortly afterward.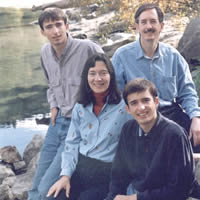 Ministry and Family: 1980-98
I began my years of pastoral ministry in February, 1980, at the Evangelical Free Church in 100 Mile House, BC Canada. The years there were marked by a thriving youth ministry; a group of young people accompanied Margy and I to Buffalo for a national EFC youth conference. Most memorable of all, however, was the birth of sons Gavin and Colin on March 13, 1982.
The family moved to the Leavenworth, Washington area in 1986 in order to begin ministry at Plain Community Church. The church became well known for the excellence of its annual Vacation Bible School, drawing 100 children of all ages to this rural church for that program each year. We enjoyed our time with these people up until my resignation in 1998.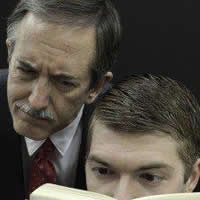 New Directions: 1999-2005
Leavenworth Summer Theater was founded in 1994, but participating in its shows held little attraction until 1997, when they announced that their season would include Joseph and the Amazing Technicolor Dreamcoat. Gavin and Colin had thoroughly enjoyed a remarkable production of Joseph at the high school, and the three of us decided to audition together. Except for the two years we spent in Tacoma from 2000-2002, I've been involved with each season's shows up to the present.
In 1998, I began to work as a consultant with Leap Computer Solutions, eventually rising to the position of VP Corporate Services until the company folded in 2000. I worked until 2001 as a Senior Web Developer for Veracicom, a major AIP in Tacoma, Washington. The Internet bust took down Veracicom among many other tech companies. When a teaching opportunity for Margy gave us the opportunity to return to Leavenworth in 2002, we headed right back, and have been in Leavenworth since.
Our family experienced a tumultuous 2004. The year began joyfully with Colin's marriage to Jennifer Brandler in March, followed by Gavin's marriage to Emily Soule in April. Our joy turned to mourning when Emily was killed in a pedestrian accident in Seattle in early December. We still miss Emily tremendously, but are grateful for the bonds of love that have developed with Emily's sisters, Jessica and Bekah. We deeply enjoyed having Jess live with us during the summer of 2005.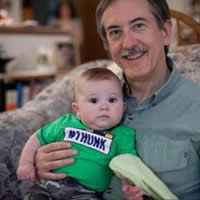 Present: 2006-present
Sons Gavin and Colin are now fathers and well established in their careers. Gavin is a marketing engineer for Sharp Microelectronics in the Camas, WA area. He married Kim Akins in 2009 and they have two wonderful sons, Grant and James. Colin earned his Ph.D. at Arizona State University in Tempe, Arizona and now teaches at Oregon State University. He and his wife Jennifer also have two sons, Calvin and Linus.
After more than 22 years, Margy retired from teaching English at Cascade High School in Leavenworth, Washington after the 2018-19 school year. She earned her Masters degree in 2003 and her National Board Certification in 2004. She has also had the honor of being twice selected as a scorer for the Washington Assessment of Student Learning (WASL) and also twice a finalist for Regional Teacher of the Year.
For six years after my time with Leap Computer Solutions and Veracicom, I was self-employed with my own company, Hesse Technology Solutions. I then worked for thirteen years as the Web designer for The Wenatchee World, the major newspaper for North Central Washington. I retired in May, 2019.